About Porec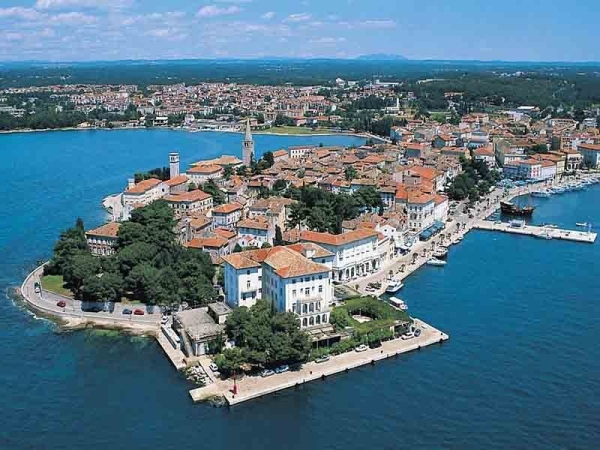 Porec is one of the best known tourist destinations in Istria and Croatia. For years, it has been dubbed as the "champion of Croatian tourism" and it has also been awarded with numerous awards to prove it. The town's residents are especially proud of their clean streets, beaches, crystal clear sea, green parks and a wide offer of different events and activities for all profiles of guests
The town is located in the central position on the west coast of Istria, which means that it is probably the best place from which to explore other interesting locations not only in Istria, but also in the neighboring Italy. This is why excursions are very popular among tourists who stay in Porec and most of them find that getting to know Istria a little bit better is definitely worth the effort – it is not without reason that this entire region is known as "terra magica" or simply the "magic land".
Old town core of Porec is a witness to the two thousand years long history of the town. The streets here still preserve the original architecture of an urban center from the age of the Roman Empire. The visitors can see numerous historical monuments, but the one that catches most looks is definitely the UNESCO protected Euphrasius basilica from the 6th century. The town was founded on a peninsula su the old core is surrounded by sea from three sides. The main street still carries the name Decumanus Maximus and it is also one of the many popular tourist attractions of Porec.
Besides the rich culture and history, Porec also offers a wide offer of sports and other activities. That's why today it is a favorite destination for both professional and amateur athletes, as well as guests that are simply looking for a good recreation and a more active holiday.
Offer of entertainment and nightlife is also developed in Porec. Numerous bars, summer terraces and clubs are located in the town and surrounding villages. Here you can relax with your friends and enjoy in different cocktails and famous Istrian wines. During the day you can taste the rich gastronomic offer in the local taverns and restaurants with a rich offer of traditional specialties.