Attractions in Porec
Sightseeing in Porec
Going sightseeing in Porec should be one of the highlights of your visit to Croatia. The rich history and cultural heritage can be seen at every step. Monuments from the Roman age, the time when Venice ruled the time, up to the age of Napoleon. Apart from the ones listed below, other notable attractions in Porec include the Romanic house, the House of two saints, the Gothic house, and many others.
Old town Porec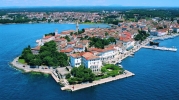 The Old town of Porec can be considered as a historical monument as a whole. Located on a small peninsula, it kept its original antique Roman urban street system. There are two main streets, Decumanus Maximus and Card Maximus, that cut across each other just like they did two thousand years ago with numerous smaller streets. This means that the Old town is divided into districts with housing, and the forum, which was the traditional name for the main town square in old Rome, is located at the end of Decumanus Maximus, only today it is known as the Marafor square.
Euphrasian Basilica

Euphrasian Basilica is the most significant historical monument in Porec. It was built in the 6th century and named after the bishop Euphrasius, today it represents the most conserved monument of early Bizantium art in the Mediterranean. It is included in the UNESCO world heritage list. Its bell tower provides a stunning view of Porec and its surroundings.
The Porec towers

Porec was first surrounded with walls back in the 4th century, but during the reign of Venice those walls were upgraded with large defensive towers. The town is also separated from the mainland by a channel and the only way to enter was over the bridge. Three of the original towers were preserved since the middle ages: the Round Tower, the Northern Tower, and the Pentagonal tower, known for the relieve depicting the lion, a symbol of the Republic of Venice.
Marafor square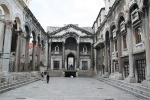 The Marfor square is actually the old Roman forum. Even today you can still see the remains of the Great temple that was built almost two thousand years ago in the 1st century, and it was one of the biggest temples in the Roman province of Istria. Not far from the Great temple stand the remains of yet another temple which was built to honor the Roman god of sea Neptune.